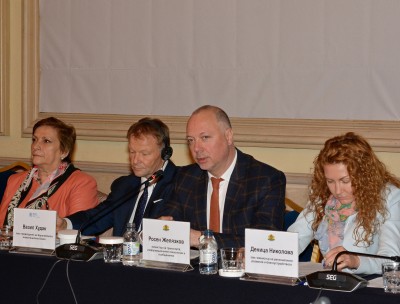 In the next few months we will define the scope of the projects in the transport sector, which will be implemented in the period 2021-2027. This was announced by the Minister of Transport, Information Technology and Communications Rosen Zhelyazkov during an international conference "European Solidarity in EU Investment Policy". The event is organized by the Regional Development Committee of the European Parliament and the Chamber of Builders in Bulgaria.
"Beyond 2020, we will continue to work on improving connectivity in the region, focusing on North Bulgaria and cross-border relations," said Minister Jeliazkov. He noted that rail transport remained the main element in the sector, and that in the next programming period the rail links from Sofia to the borders with Northern Macedonia and Serbia were envisaged. "We are going to study the necessity and the alternatives for development of the railway infrastructure in the North-South direction," said Minister Jeliazkov.
"The road sector will focus on building transport links in Northern Bulgaria," said Rosen Jeliazkov and added that OPTTI currently finances the preparation of two road projects aiming to build them after 2020. These are the motorway " Rousse-Veliko Tarnovo "and the Vidin-Montana-Vratsa highway.
According to the Transport Minister, the new extensions of Line 3 of the Sofia metro already have high design readiness. "In the new program we will offer for financing the plots to the railway station. "Vasil Levski" and to Tsarigradsko shosse Blvd., explained Rosen Jeliazkov.
Speaking to the media, Minister Jeliazkov said the texts of the new Law on Road Vehicles are ready and the project is due to be published for public discussion. The most important changes are related to safety, registration of the workshops, creation of the necessary data bases, technical examinations and the qualification of the people performing the service. The Minister stressed that these changes are not being made to protect certain interests, but to ensure competition in the sector, the safety and environmental integrity of road vehicles and to protect the rights of consumers and market participants.
On the subject of the forthcoming European Parliament meeting and the concerns of carriers that the Mobility Package I will be on the agenda, Minister Jeliazkov commented that on March 25, the leaders of the parliamentary groups will be finally determined whether the Package will be included in the meeting March 27th. The Minister announced that on March 18th he will hold a working meeting with representatives of the Bulgarian carriers on which the topic will be discussed before the forthcoming vote in the European Parliament. He expressed firm position that the Bulgarian state is behind the carriers and has not changed its position on this issue.