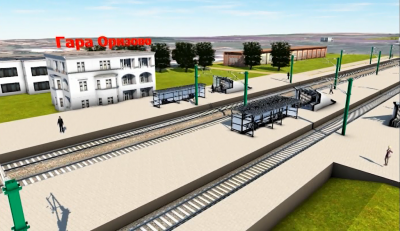 The construction contract for the complete rehabilitation of the "Orizovo-Mihaylovo" railway section, part of the project "Rehabilitation of the Plovdiv-Burgas railway line, Phase 2", co-financed by the Cohesion Fund through the Operational Programme "Transport and Transport Infrastructure" 2014-2020, has been signed today.
The entire section is 37 km long out of which the bigger part of the double-directions railway track will be constructed over a new route and will allow train speed up to 160 km/h.
A new railway, catenary system and a tunnel with a length of 835 metres will be built within the project.
Along the route all the railway crossings will be removed and replaced by 5 road overpasses and 3 road bridges. This will eliminate the one-level crossing and increase the level of safety.
The project's activities also include the renewal of the tracks and the switches at  Orizovo, Chirpan and Mihaylovo stations, as well as the modernization of the signalling and telecommunications systems. People with reduced mobility will rec receive access to the renewed reception facilities and platforms at the stations and the stops.
The contract value is BGN 217 982 167,08 excluding VAT and the execution time is up to 49 months.