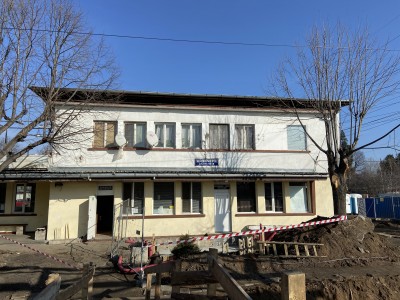 The modernization of the railway station of Kazichene has began today. This is the third key Sofia station, part of the project "Reconstruction of Poduyane, Iskar and Kazichene Railway Station Complexes", which is being funded by the Operational Programme "Transport and Transport Infrastructure" 2014-2020.
"The start-up of this site is yet another piece of proof that the company continues to actively work towards one of its main objectives, namely the sustainable development of national railway transport, the full service of the station complexes, the improvement of service and the comfort of the passengers," said the General Director of the National Railway Infrastructure Company, Krasimir Papukchiyski, at the time of the official start of the construction work.
He added that the railway station of Kazichene is located on the railway line "Sofia — Plovdiv", which is one of the busiest in the country. Eng. Papukchiyski pointed out that the project includes thorough reconstruction of the infrastructure and the support technology buildings and facilities through the deployment of new energy efficient and high-tech modern installations — for heating, air- conditioning, lighting, information and others.
"After the reconstruction of the Kazichene complex, it will ensure a comfortable, safe and accessible environment for passengers and the staff which will meet all the modern and European requirements", concluded the General Director.
The reconstruction of Kazichene railway station complex is carried out with the co-financing from the European Regional Development Fund (ERDF) through the Operational Programme "Transport and Transport Infrastructure" 2014-2020. The value of the construction contract for the site is 1 115 653, 37 BGN excluding VAT, and the contractor is DZZD "Kazichene Bild 2018" consisting of the firms "Trading Komform' EOOD, 'Trap — Sofia' EAD, "Termo Consult Sofia" EOOD. 
Detailed information about the project can be found here.