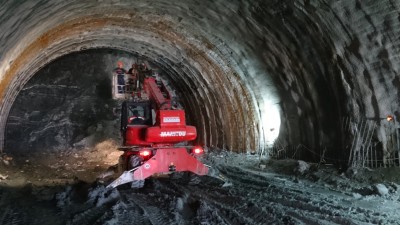 The first 400 m of the Zheleznitza tunnel on the Struma motorway have been dug. The construction works of the facility started in October 2019 and the site is under way at the same time both pipes and tubes. Have been dug 275 m from the southern side of the tunnel and 125 m from the north.
The facility will be about 2 km long, with two separate tubes in the direction and will be the longest road tunnel in us. Two service routes on both sides of the facility and a heliport are included in the facility. The tunnel is built using a new Austrian method — digging around 1,5-2 m in each tube on a 24-hour basis and immediately afterwards, the primary coating of the facility with mountings and reinforced concrete and ankers is made. The tunnel will be equipped with all necessary systems for energy efficient lighting, ventilation, CCTV, fire alarm, intelligent traffic management system, emergency SOS booths, audio and radio communication, an electronic access control system, etc. On site, 24/7 operation is operational. The objective is to be completed by January 2022.
The project for the construction of Zheleznitza tunnel of Struma motorway is co-financed by the Cohesion Fund of the European Union and the national budget through the OP "Transport and Transport Infrastructure" 2014-2020. The section has an overall length of 4.4 km and is divided into 3 sub-sites, including the tunnel.
The section prior to the facility is 720 m long. it involves building a bridge that will be 540 m long and will pass over 6 obstacles — river Struma, the F79 road, the existing and the future track, the municipal road and the facility of the facility. The viaduct is implemented in a technology that is innovative for Bulgaria, which is being pushed forward. It is characteristic of it that a worksite with mobile elements is used which, with a hydraulic system, is pushed up and pushed forward, with each item being mounted before it is ready. The construction of the bridge facility will not stop the operation of the E79 Sofia — Kulata road.
The third subdivision is 1 400 m long and provides for an emergency connection to be constructed in order to bring the traffic to Sofia on the E79 road in the event of an unforeseen situation in the tunnel.