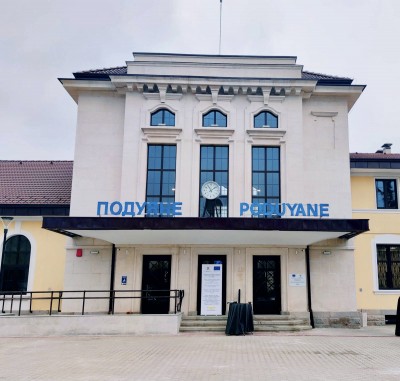 Fully renovated and put into operation today is the second largest railway station in Sofia – Poduyane station. The reconstruction of the building was carried out with European funds under Operational Programme "Transport and Transport Infrastructure", with over BGN 2.9 million invested in the site. The railway complex Poduyane is part of the railway line Sofia-Plovdiv, which is the busiest one in the country. The number of passengers arriving and departing in this direction is about 1.4 million.
The railway station Poduyane was built in 1930 and no major renovation was carried out until 2019.The building of the building was built according to the design of Arch. Panayot Kalchev, one of the most prominent architects of railway stations in Bulgaria.Because of its architectural appearance, the station is a popular decor for feature films and advertising videos. Within the project, the decorative elements of the façade are restored, as well the ornaments on the walls in the waiting room, and their Authencity is fully preserved. The waiting room, emblematic for the building is also preserved.
After the reconstruction, the railway station Poduyane has been completely renovated, meeting all European requirements for energy efficiency, technical safety and accessible environment. During the implementation of the reconstruction, a complete renovation of the reception building was carried out, new energy efficient and high-tech modern installations were built – electrical, heating, ventilation, air conditioning, plumbing, security, video surveillance and the system for information announcements.
The official opening of the building was made by the Director General of NRIC еng. Krasimir Pappukchiyski, Minister of Transport, Information Technology and Communications Rosen Zhelyazkov and the Mayor of Sofia Municipality Yordanka Fandakova.
The reconstruction of Poduyane station complex is carried out with co-financing by the European Regional Development Fund (ERDF) through Operational Programme "Transport and Transport Infrastructure" 2014-2020.
More information about the project can be found here: https://www.eufunds.bg/en/optti/node/1605.