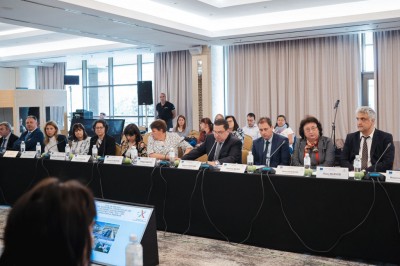 The funds paid from the budget of OP "Transport and Transport Infrastructure" 2014-2020 currently are at the amount of EUR 1.09 billion, which is 62 % of the total resource of the Programme. The lowest absorption rate has been recorded for the railway projects — 33 %. This became clear during the regular meeting of the Monitoring Committee of OPTTI 2014-2020, which took place on 11-12th of May 2022 in Sofia.
Until the end of the Programme there is one and a half year left in which a lot of work has to be done in order to avoid failure to meet the objectives set, said Mr. Martin Georgiev, acting director of the Coordination of Programmes and Projects Directorate at the MTC and Head of the Managing Authority of OPTTI.
He explained that the Transport Connectivity Programme has not been approved yet by the European Commission, but the eligibility period has already started. "The main projects in the railway sector, which will be implemented in the new period, are phased projects and we expect NRIC to carry out the two phases in parallel, without awaiting the closure of the 2014-2020 period," stated explicitly Georgiev .
The Deputy Director-General of the National Railway Infrastructure Company, Mrs. Julieta Atanasova, presented the current status of the projects underway. The activities of the project for rehabilitation of the Plovdiv-Burgas railway line have been implemented at 41 %, and the systems for signalling and telecommunications and the modernisation of the railway section Orizovo-Mihailovo are currently being built. Contracts have been concluded with contractors for the construction of 24 road overpasses, which will ensure a conflictless crossing of road and rail transport. Regarding the other major project — Elin Pelin-Kostenets, Atanasova said that about 2 km of the tunnel facilities in the Elin Pelin-Vakarel section have been bored and the construction of the second lot between Vakarel and Ihtiman is about to start soon.
Within the road projects it was reported that the "Zheleznitsa" tunnel of Struma Motorway was built constructively and finishing works are currently being carried out. The total progress of the whole project, which includes Lot 3.1 Blagoevgrad-Krupnik, Lot 3.3 Kresna-Sandanski and Zheleznitsa Tunnel, is 91 %, but due to several activated landslides in the area is expected to be completed next year.