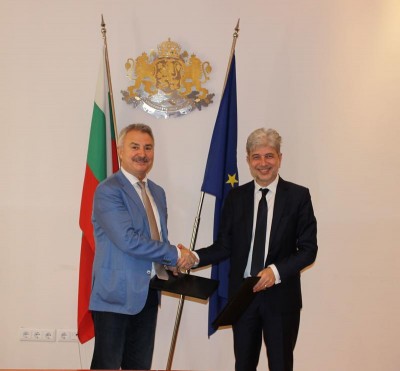 The Minister of Environment and Water Neno Dimov and the mayor of Montana Zlatko Zhivkov signed a contract for improving the quality of the ambient air in the municipality. This is the first project under the OP "Environment" (OPE) for real investment measures addressing the main source of air pollution - domestic heating.
The implementation of the project will stimulate the households to switch to more environmentally friendly forms of domestic heating, which will reduce the amount of emissions of fine particulate matter and nitrogen oxides in the municipality of Montana. The activities foresee the replacement of heating appliances for households using solid fuel appliances with alternative heating forms.
The amount of the investment is BGN 10.7 million, provided entirely by OP "Environment 2014-2020". The duration of the activities is 54 months.
Today Minister Dimov and the mayors of Pleven and Smolyan - Georg Spartanski and Nikolay Melemov signed contracts for programs for improving the quality of the ambient air in the two municipalities. The projects envisage the planning of suitable to local conditions and effective measures for enhancing air cleanliness and limiting the harmful effects on human health and the environment. The aim is to achieve and maintain the air quality norms defined in European and national legislation. The investment under the two contracts is a total of BGN 533 390, provided by OP "Environment". The implementation period is 18 months.