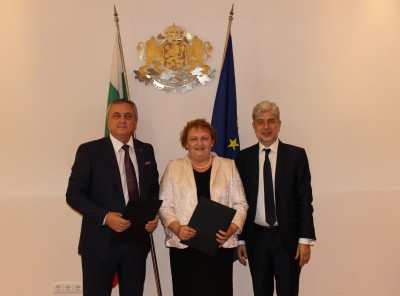 The Minister of Environment and Water Neno Dimov and Angel Prestoyski, Manager of Water Supply and Sewerage Ltd. - Vratsa today signed a contract for construction of water and sewerage infrastructure. The event is also attended by the Vratsa regional governor of Malina Nikolova. The total amount of the investment is over BGN 50 million. The Operational Program "Environment 2014-2020" (OPE) provides financial support amounting to more than BGN 36.3 million.
"Water Supply and Sewerage" - Vratsa is the first of the 14 consolidated Water Supply and Sewerage operators to be financed under OPE by applying the regional approach to water infrastructure investments. Under the project 80 km of water supply network for the towns of Vratsa, Mezdra, Byala Slatina and Kozloduy will be rehabilitated, reconstructed and/or completed. With the successful implementation of the project activities, another 78,000 inhabitants will have access to improved water supply. Water losses are expected to decrease by 20%.
Direct benefits to the population are related to reducing the risk of pollution of water bodies by increasing efficiency in the collection, removal and treatment of waste water and improving the level of water supply services offered.
The implementation deadline for the project is 49 months.