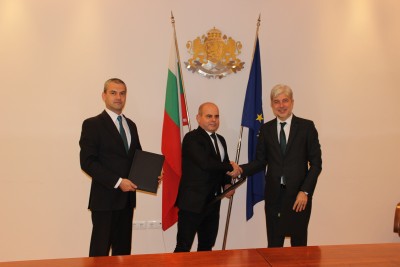 The Minister of Environment and Water Neno Dimov, the Mayor of Rousse Plamen Stoilov and the Executive Director of Municipal Transport Rousse EAD Alexander Georgiev signed a contract for improvement of air quality through investments in ecological transport.
This is the first project under Operational Programme Environment 2014-2020 (OPE) with measures to address transport as a source of atmospheric air pollution with fine particulate matter (PM10). The total investment is BGN 46.8 million. OPE provides BGN 39 million.
Under the project, a total of 35 electric vehicles will be purchased for the public transport needs of Ruse Municipality - 20 electric buses and 15 trolleybuses. Delivery and installation of 20 charging stations in a trolleybus depot and 4 fast charging stations.
The activities include construction of the necessary infrastructure for the operation of new vehicles, as well as upgrading of the existing contact network. Under the project video surveillance and real-time passenger information systems will be established. The new equipment systems will be integrated with the existing public transport management and control systems of the Rousse Municipality.
The implementation of the project will reduce the emissions of PM10 with a source of transport from 1.62 to 0.95 tonnes per year. The implementation of these measures will contribute to improving the quality of the ambient air for nearly 137,500 inhabitants of the Municipality of Ruse, as well as to meeting the goals arising from the national legislation.
The implementation period is 40 months.