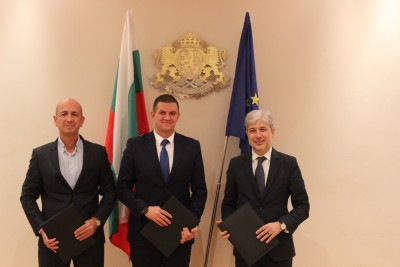 The Minister of Environment and Water Mr. Neno Dimov, the Mayor of Haskovo Municipality Mr. Stanislav Dechev and the Manager of Trolleybus Transport Ltd. Mr. Yordan Panev signed an agreement for purchasing of municipal public electric transport. The total investment is BGN 6 million. The Operational Program "Environment 2014-2020"provides BGN 5 million.
The project aims to improve the air quality  in Haskovo Municipality by reducing the levels of fine particulate matter and nitrogen oxides. 5 new electric buses and 6 charging stations will be purchased along with the installation of the necessary infrastructure for power supply.
Electrification of the city transport will improve the environmental state in the central part of Haskovo and will reduce the anthropogenic impact on the environment.
The implementation of the activities will contribute to the improvement of the air quality for nearly 70,000 citizens of the municipality. The deadline for implementation of the activities is 33 months.