55 concluded contracts in 2018 with investments of BGN 850 million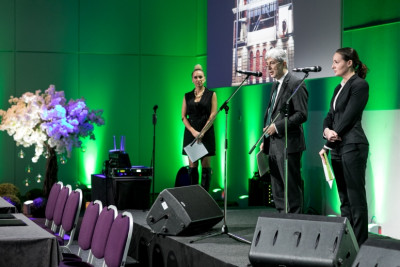 "The signed contracts under Operational Program" Environment 2014-2020 "(OPE) since the beginning of the programming period have so far been over BGN 1.6 billion, which represents nearly 50% of the program's resource," sad the Minister of the Environment Environment and Water Neno Dimov during the annual information event of the program on Monday evening.
The Minister added that the resource of nearly BGN 3.6 billion is available to the beneficiaries, with most of the investments in the Water sector. "We expect 14 WSS operators to start submitting their project proposals at any moment, so that the quality of water and waste water treatment will be much higher over the next 5 years. With the implementation of these projects we do not just meet the European criteria, but we take care of the health and life of the people in Bulgaria, "said Minister Dimov. He explained that more than half a billion BGN were paid to the beneficiaries and the certified funds by the end of the year will amount to BGN 460 million.
The Head of the Managing Authority of the OPE 2014-2020 Valeria Kalcheva presented the progress in the program for 2018. "This year we managed to announce 9 procedures worth more than BGN 2 billion", Kalcheva said. She added that the contracts signed in 2018 were 55 with investments of BGN 850 mln. The funds paid to the beneficiaries only for this year amount to over 367 mln leva or 10.6% of the budget of the program. "Serious progress has been made in 2018, but implementation of the program is not just figures and figures are not an end in itself. For all of us whose work is related to the implementation of environmental measures, it is clear that effective, balanced and sparing use of natural resources is of paramount importance to nature - the home we live in", said Valeria Kalcheva.
She pointed out that measures in the water, waste, biodiversity and air quality sectors require considerable resource but are hard to implement and often unpopular among citizens. "Along with the efforts to speed up contracting and payment rates on projects, this year we also paid serious attention to the promotion of all the benefits of implementing environmental projects." As a result of targeted information campaigns and according to a sociological survey, OPE is recognizable by 76% of the citizens, which makes the program first among all the eight operational programs.
"I am confident that the results presented can be considered positively. However, they would not have been possible without professional support, mutual compromises and hard work. Here is the place to thank everyone with whom this year we met challenges and achieved goals together", said Valeria Kalcheva.