The project is worth BGN 22.3 million and is financed under OP Environment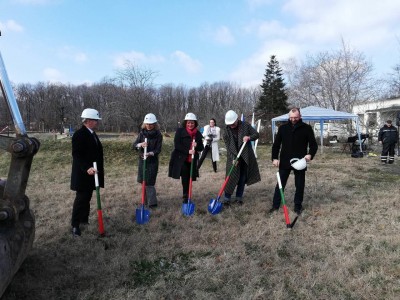 Deputy Minister of Environment and Water Atanaska Nikolova participated in the first sod of the integrated investment project in the water sector of the Primorsko-Kiten agglomeration. Together with the Mayor of Primorsko Dimitar Germanov today, she gave the start of the construction works for the forthcoming modernization of the existing facility.
"This is the physical beginning of a long-awaited project - a result of the efforts and proof of the good cooperation between the state, in the face of the Ministry of Environment and Water, and the local government, in the face of Primorsko Municipality. The implementation of the project will have positive effects on the quality of the environment, the cleanliness of the Black Sea and the development of the business and the local community", Deputy Minister Nikolova said.
The project is worth 22.3 million leva, the main funding being under the Operational Program "Environment". Reconstruction, modernization and extension of the Primorsko-Kiten wastewater treatment plant, as well as reconstruction of adjacent infrastructure and facilities are foreseen. The sewage treatment capacity will increase and will be able to cover another 55 000 inhabitants and guests of Primorsko and Kiten.
As a tourist municipality, we have an endless need for such an investment and this will affect the product we offer, said Mayor of Primorsko Dimitar Germanov. He recalled that the preparation before construction started today began at the end of 2011 and is the result of the active work of the municipality team with the help of the Ministry of Environment and Water. The contractor assured that the station would be upgraded without interruption. The facility was built in 1974 and is no longer able to serve the growing number of tourists in the area.