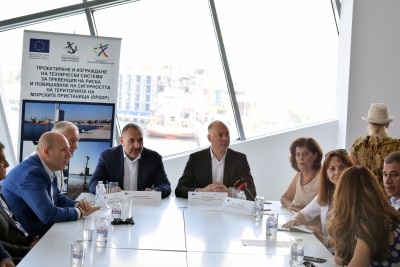 A new technological system to enhance the safety of Bulgarian seaports was presented during the final press conference on Design and Construction of technical systems for risk prevention and security of the seaports /RPSSP/ on 21 June 2019. 
The event was held in the coastal centre for vessel traffic management and information services in Burgas, built under the Operational Programme Transport for the VTMIS project.
A demonstration of the possibilities of the new system was made in the presence of the Minister for Transport, Information Technology and Communications  Rosen Zhelyazkov, the Head of the Managing Authority of the Operational Programme "Transport and Transport Infrastructure"  Galina Vasileva, Mayor of Burgas Dimitar Nikolov, Director General of State Enterprise Ports Infrastructure Zlatko Kuzmanov, representatives of the port community, journalists and guests.
The total budget of the project is BGN 7 231 917, with co-financing provided by the European Regional Development Fund, through the Operational Programme "Transport and Transport Infrastructure" 2014-2020 and the national budget of the Republic of Bulgaria.
The system is already operating at the Varna-Iztok, Varna-Zapad and Burgas-East 1 terminals. Two command and control centres are in place to allow for the continued protection of critical infrastructure. It will increase the level of security and safety of our maritime border, which is external, both for Bulgaria and for the European Union. In addition to countering smuggling and controlling the movement of risk goods and goods, it will also help to increase the collection of revenues from seaports.