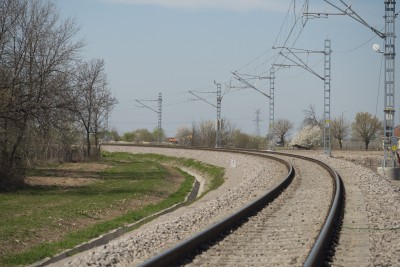 The modernization of the Plovdiv–Burgas railway line directs us to the challenges of the new digital world, where human errors will be reduced to zero and the pleasure of the journey will be the main goal, not just the speed of travel. This was stated by the Minister of Transport, Information Technology and Communications Rosen Zhelyazkov at the opening today in Belozem of the railway section Skutare-Orizovo. It is part of the project "Rehabilitation of the Plovdiv-Burgas railway line, Phase 2", co-financed by the Cohesion Fund of the EU through OP Transport and Transport Infrastructure 2014-2020.
"The signalisation, the smooth passage of conflict crossings, telecommunications and all the elements that accompany the modern railways are already a fact and we are observing them in action. The railway line Plovdiv – Burgas by 2023 should be the road we associate with the concept of European railways," the Minister further said.
The newly opened section is extremely important for the deployment of the railway network between the border with Serbia and the Black Sea. With the development of Karnobat – Sindel, Ruse – Kaspichan, Varna – Ruse, etc., conditions will be created for the use of railways as the most modern transport for passenger and freight transport.
The rehabilitated railway section Skutare-Orizovo is part of the Plovdiv-Burgas phase 2 project, co-financed with funds from the Cohesion Fund of the EU and implemented under OP "Transport and Transport Infrastructure" 2014-2020. It's 26 km long. The value of the construction contract is BGN 69 848 308, 66 excluding VAT.
Scope of the object:
Modernization of railway and contact network;
Modernization of signaling and telecommunications in the section;
Rehabilitation of technical buildings and reception facilities in the stations of Manole, Belozem and construction of a stop station Opalchenec;
Rehabilitation of all artificial facilities from the lower construction (large and small bridge facilities, culverts, drainage ditches, etc.);
Construction of new and rehabilitation of existing drainage systems.