From "Hadzhi Dimitar" to "Krasno Selo" in 15 minutes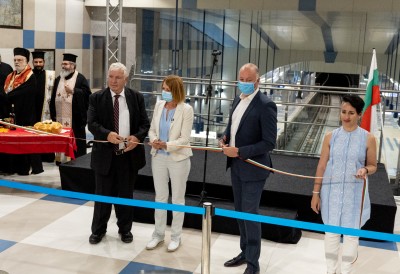 From August 26th 2020 Sofia metro has been increased by 8 new stations and 8 km route. The section, provisionally called "Stage 1", connects Hadzhi Dimitar and Krasno Selo districts through nodes of the central part of the capital.
The construction of Stage 1 lasted four years and various technologies had been used including "New Austrian tunnel method", "Milanese method" and a tunnel-boring machine "Vitosha" in the process of building the complex central urban section.
As part of the project a new metro depot "Zemlyane" on "Zitnitsa" Street had been built. It will serve the entire Line 3. Twenty "Inspiro" trains have been delivered and will be operated by 70 highly qualified engine drivers who had been especially trained. The new trains have bright interior, attractive lighting, modern air conditioning and reduced noise levels.
An update on the route of Line 3 are also the safety automatic doors against accidents in the subway. The glass partitions are 1.60 cm high and are synchronised with the doors of the metro-trains, opening when the train arrives
The section from Hadzhi Dimitar to Krasno Selo has new automation and control systems installed for the first time in Bulgaria. At this beam, a signal is given to the train by radio signal on the segment, i.e. the position of the train is literally located to centimetres.
The architecture of the eight stations of Stage 1 is work of our outstanding  architects and their teams. Krasen Andreev and his team is the author of the design of MS "Krasno selo", "Bul. Bulgaria" and "Orlov Most". Irena Derlipanska is the architect of the "Medical University" and "Patriarch Evtimiy" stations, and Farid Pactiyaval of "NDK-2". Architect Konstantin Kosev with a team is the author of the design of stations "Theatralna" and "Hadzhi Dimitar".
With the new 8 stations the metro will carry up to 60,000 passengers per day, and the travel time from "Krasno Selo" to MS "Hadzhi Dimitar" will be about 15
The project for the extension of the Sofia Metro is an emblematic and large-scale project, co-financed by the funds from the European Union and implemented under Operational Programme on "Transport and Transport Infrastructure".
The total value of the contracts signed with contractors for the entire Line 3 (Stage 1 and Stage 2) is: 974 088 000 BGN (approximately 1 billion levs). Out of these, 661 128 000 BGN are grants provided by the European Regional Development Fund through Operational Programme on "Transport and Transport Infrastructure" and 312 960 000 BGN – local co-financing.
Метростанция "Красно село/Цар Борис III"
Метростанция "бул. България"
Метростанция "Медицински университет"
Метростанция "Национален дворец на културата 2"
Метростанция "Св. Патриарх Евтимий"
Метростанция "Орлов мост"
Метростанция "Театрална"
Метростанция "Хаджи Димитър"