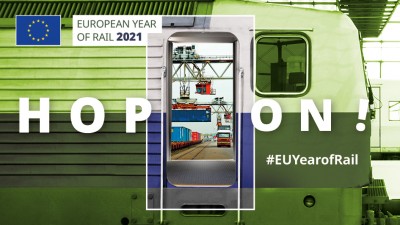 Decision (EU) 2020/2228 of the European Parliament and of the Council of 23 December 2020 declared that 2021 year is the European Year of Railway Transport. Through projects, discussions, events, exhibitions and initiatives throughout Europe, the European Year of Rail Transport will promote railways among citizens, businesses and public authorities as an attractive and sustainable way of moving, focusing on its innovative nature.
On 29 March 2021, the European Commission and the Portuguese Presidency of the Council of the European Union will hold a joint conference to officially launch the initiative together.
The virtual conference will be broadcast live from Lisbon on 29 March 2021 from 15.00 to 18.00 pm and will precede the informal meeting of the Council of Transport Ministers on rail transport.
The conference will be opened by Ms Adina Valian, European Commissioner for Transport, and Mr. Pedro Nuno Santos, Minister of Infrastructure and Housing of Portugal.The event will be attended by representatives of the European Parliament and of the European Commission, as well as senior officials from the European rail sector. Panel discussions on key topics for the future of railway transport are envisaged.
Access to the event is open both to specialists from the railway sector and to those who like to travel by rail. Information on living connection will be published here before the conference.
More information about the European Year of Railway Transport is available on its official website: https://europa.eu/year-of-rail/index_en.