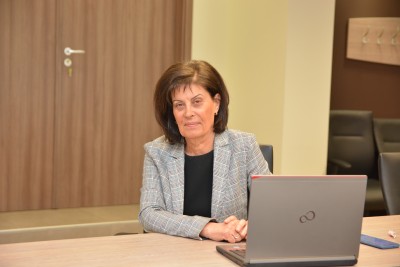 Development of intermodal links, introduction of traffic management and safety improvement intelligent transport systems, as well as the construction of key road and rail sections in the country are part of the priorities of Program on "Transport Connectivity" 2021-2027 (PTC 2021-2027), which is due to be sent for approval to the European Commission. The projects were presented to the stakeholders during an on-line meeting today, organized by the Ministry of Transport, Information Technology and Communications.
During the public discussion the manager of the Managing Authority of PTC 2021-2027 Galina Vassileva acquainted the participants with the aims and the policies of the Program for the next 7-year programing period. "All europrograms focus on the achievement of a low-carbon and greener Europe with an intelligent and intermodal transport network", stated Vassileva. She noted that the earmarked funding of some of the largest transport projects in Bulgaria will continue. The construction of "Rousse-Veliko Tarnovo" motorway, the tunnel under the Shipka peak and the rail links with Northern Macedonia and Serbia are among them. The completion of Lot 3.2. of "Struma" motorway as well as "Elin Pelin-Kostenets" railway line will also remain a priority.
The draft budget of the Program on "Transport Connectivity" 2021-2027 is EUR 1,95 billion, separated into 5 main axes - railway infrastructure (EUR 702 million), road infrastructure (EUR 732 million), intermodality (EUR 328 million), transport innovation (EUR 143 million) and technical assistance (EUR 46 million). Funds for railway infrastructure are allocated from Connecting Europe Facility and the National Recovery and Resilience Plan in addition to the program investment.
Funds, allocated for the development of transport intermodality in the country amount to over EUR 328 million. Extensions of Port Varna and of Port Lom are envisaged aimed at the creation of conditions for multimodal transport operations. The projects on the construction of the railway links to Bourgas airport and to Plovdiv airport and also the assistance of multimodal operators in the country through financial instruments for the development of the existing infrastructure are also among them.
PTC 2021-2027 puts a special emphasis on transport safety. The delivery of emergency and rescue and patrolling vessels and equipment, related to ensuring safety in the Black sea, is envisaged too. The program will also fund the purchasing of specialized vessels for improvement of navigation conditions in the Danube River, as well as projects on the construction of alternative fuels infrastructure within both the national road network and the ports of national significance.