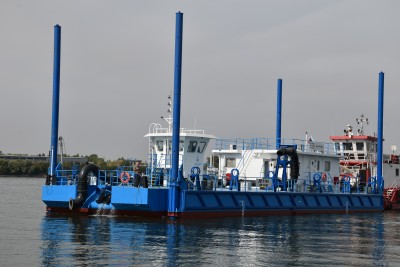 The new pontoon, which will be part of the dredging equipment of the Danube River Exploration and Maintenance Executive Agency, arrived in Ruse. The facility was built at ATG Giurgiu Shipyard in Romania. The pontoon is 34.5 meters long, 11.4 meters wide and is designed for loading dredging tables of two Shalans through a floating pipeline. Its value is BGN 2 345 000.
The delivery is part of the implementation of the project "Modernisation and optimisation of the rehabilitation of the shipping road in the common Bulgarian-Romanian section of the Danube river", which is co-financed by the European Regional Development Fund, through Operational Programme on Transport and Transport Infrastructure 2014-2020 and with funds from the national budget.  With it, the Agency will be able to better perform one of its main tasks, namely maintaining the navigable road in the Bulgarian section of the river.
The project also delivers dredger, shawl, manoeuvring vessel and pipes for transportation of deposits.
By the end of the year, a maneuver ship and shawl will be delivered, which are currently being built at the shipyard in Giurgiu. 
More information about the project can be found here