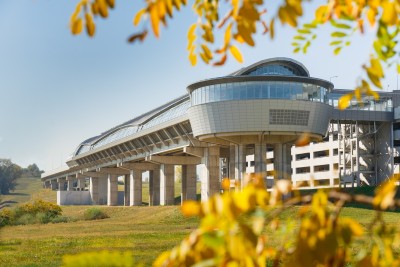 At the end of 2017 the "Sofia Metro Extension Project" has been ranked among the Top 10 most successful infrastructure projects, co-funded by the European union. Since then it has often been given as a good example at different events and forums.
At the invitation of the European Parliament the project was presented as a best practice at a European Parliament Election Seminar "A Kaleidoscope of EU investment today and tomorrow" held in Brussels on January 22-23, 2019.
The main goal of the seminar was to present the most successful projects, co-funded by the European Funds and their benefits for the European citizens.
The most evident advantages of the Sofia metro – the good transport connectivity, the modern vision and technologies, the convenience and speed of transportation deservedly place the project into the Platform "What Europe does for me", which was also presented during the seminar.
On this platform, every European Union citizen, who is interested, could get himself acquainted with the projects in his country and region. Meanwhile the information will be updated and complemented.
Some of the most interesting facts about the Sofia metro, mentioned during the seminar, are as follows:
Its construction has started 40 years ago, back in 1979, with "Vardar" Metro-Station. "Lyulin", "Zapaden park", "Slivnitza" and "Konstantin Velichkov" Stations have followed.The completion of these first 5 Metro-Stations took whole 19 years. The official opening was on January 28th,1998.
Following the inclusion of the metro extension project in European funding consecutively under the "Transport" 2007-2013 Operational programme and the "Transport and transport infrastructure" 2014-2020 Operational programme the construction of the underground railway in Sofia has been accelerated more than 3 tim.e
For the last decade, between 2008 and 2018, 21 km have been built in comparison to the 17,8 km during the previous 30 years.
Currently, with co-funding under the  "Transport and transport infrastructure" 2014-2020 Operational programme the metro is being extended with Line 3.  It includes 12 km new Metro-Lines and 12 new Metro-Stations.
Thus, in 2020 the Sofia metro will encompass 52 km Metro-Lines and 47 Metro-Stations in total.
Given the constantly growing population of the capital, officially by approx. 20-30 thousand citizens per year, the metro extension is quite of great significance. Together with the town of Sofia visitors there are more than 2 mln. people daily across the city.
Except for improving the living conditions and the quality of the urban infrastructure, some of the most important benefits from the project implementation include: