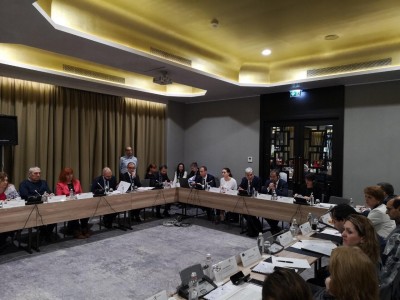 At the thirteenth meeting of the Monitoring Committee of the OP "Environment", Methodologies and Criteria for three new Program Procedures were adopted in the sectors "Waste" and "Natura 2000 and Biodiversity".
 "Two years ago there was a risk of losing funds under the Operational Program and it was avoided by hard work," said Minister of Environment and Water Neno Dimov. He added that pilot projects in the field of waste management will serve as a basis for larger investments to be funded in the next programming period. "The goal is to have a more efficient economy, with more revenues for the citizens, and for the budget," said Minister Dimov.
The main objective of the demonstration project implementation procedure in the area of ​​waste management is the transition to a circular economy and the formation of a zero waste society. Beneficiaries are legal entities with economic and non-profit purposes, and municipalities. The maximum total budget is close to BGN 9.8 million.
The focus of today's meeting was on Priority Axis 3 "Natura 2000 and Biodiversity". The procedure for improving the conservation status of bird species will be announced in the second quarter of 2019. Eligible beneficiaries are the structures of the Ministry of Environment and Water and the Ministry of Agriculture, Food and Forestry responsible for the implementation of Natura 2000 policies, as well as non-profit legal entities, municipalities and research institutes.
The methodology and evaluation criteria under the Species Action Plan procedure were adopted for the fourth quarter of 2019. The purpose of the activities is to support the identification of conservation, conservation and other conservation activities for the Natura 2000 target species for a period of 10 years.
At present, under the Natura 2000 and biodiversity priority axis, 5 procedures are announced for 38% of the axis budget. 17 contracts are being concluded and the Natura 2000 management project has been completed. "Biodiversity is the natural capital of a country and it is our commitment to continue to optimize the full and effective use of the resources provided by European funding", said Aurelio Cesilio, Directorate General "Regional and Urban Policy" at the European Commission.
Today's Monitoring Committee presented methodology and criteria for evaluation under procedures "Shared Vision for the Environmental Network of Nature 2000 in Bulgaria" and "Implementation of Priorities in Wetlands" and the Strategic Plan for Implementation of Priority Axis 3 "Natura 2000 and Biodiversity" .