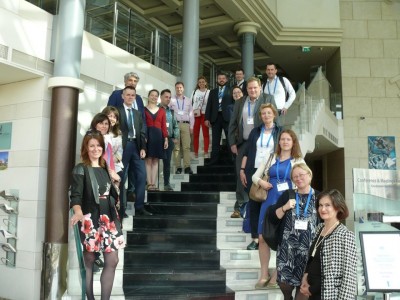 Experts and practitioners from several European countries shared experiences and discussed ideas at a dedicated workshop on the evaluation of programmes funded by the European Structural and Investment Funds. The event took place in Sofia from 28 until 29 of May 2019 and was organised jointly by the Managing Authority of the Operational Programme "Transport and Transport Infrastructure" and the European Commission, via TAIEX-REGIO PEER 2 PEER. TAIEX-REGIO PEER 2 PEER is a platform of the European Commission's Directorate-General for Regional and Urban Policy, built to share best practices aiming to increase administrative capacity. In particular, this instrument supports and facilitates the exchange of experience between administrators, experts and practitioners involved in the management of the Cohesion Fund and the European Regional Development Fund in the Member States.
The workshop comprised of presentations and working discussions, focusing and analysing key issues related to the evaluation theory and methodology, specific approaches and techniques for assessment of infrastructure and transport projects, data collection, the role of statistics and indicators, preparation of evaluation procedures and implementation of evaluation contracts.
The evaluation process plays a leading role in the implementation and implementation of EU cohesion policy. Practice shows that evaluation is a major challenge and requires the active involvement of all stakeholders in this process. A structured and expert evaluation is a prerequisite for improving the effectiveness and efficiency of the programme; such an assessment brings added value to cohesion policy at a general level by better targeting interventions and finding optimal solutions to challenges.
The participants in the event from Lithuania, the Czech Republic, Estonia, Poland, Romania, Slovakia and Bulgaria expressed their satisfaction with the meeting held. The programme and organisation of the workshop was tailored to the needs and requirements of the experts — practitioners, met their expectations and enabled participants to share ideas, to discuss case studies from theory and practice, to strengthen formal and informal contacts in the range of practitioners actively working on the evaluation topic.